Van Beers Mediation
Van Beers Mediation - Expert, specialist advice
Divorce mediation concentrates on guiding both parties to agreement on issues relating to their financial settlement and child arrangements.
Agreeing child access and finances as soon as you separate can assist in avoiding problems arising in the future. Mediation is the most effective way to get an effective agreement in place.
Whether couples are married or not, it is essential that the arrangements for the children are agreed as soon as possible after separation or divorce.
The financial consent order is arguably the most important part of the divorce process. Without a consent order, your ex spouse can make further financial claims on you in the future - regardless of what your agreement may be now. Mediation is the first step in reaching agreement on the settlement before that agreement is then presented to the court as a consent order.
Mediation can nip potentially damaging disputes in the bud resulting in better working relationships between employers and employees or co-workers.
Disagreements can quickly escalate into full scale disputes. Mediation will assist you to reach an agreement and avoid costly court action.
The new divorce law came into effect in England and Wales in April 2022.

The law now says that couples can get divorced without one of them needing to blame the other for the marriage breaking down. The new law also applies to Civil Partnerships.
If you have been denied contact or you're worried about losing contact with your grandchildren, we can assist in mediating an agreement between you and your grandchildren's parents, to ensure that you have ongoing contact with the children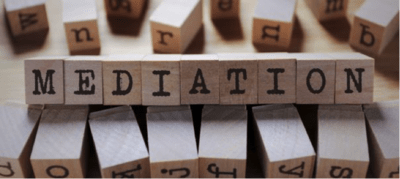 Community mediation is based on the principle that local disputes are best resolved by members of the local community themselves rather than leaving issues to be dealt with by the local authorities. Any dispute between residents, neighbours, landlord/tenant, can be resolved using mediation
Client Feedback
Thank you so much for everything you have done.
Mr H, Southampton Nov 2023
Thank you for your help with this very tricky matter. I thought you controlled the meetings very well and somehow managed to get an agreement when both parties had very set and opposing opinions! I will certainly recommend you to anyone I know who may need your services.
Mr Q, Hants Aug 2023
I have to say you are amazing at what you do to be able to get this to a conclusion. So, thank you for such great service
Mr M, Beds October 2022
Thank you sincerely. You made what I can only describe as a significant impact on guiding and helping me to navigate through this complex, arduous and emotional journey. Your service was excellent throughout, you were patient and professional. I cannot thank you enough
Mr P, London October 2022
Thank you so much for helping us navigate this process so calmly and successfully.
Mrs B, London, March 2022
Thank you for all your help throughout this process. Much appreciated.
Mr C, Hampshire, Feb 2022
Sincere thanks for all your assistance through this difficult time.
Mr C, Surrey, Dec 2021
Thank you for making this process as painless as possible.
Ms B, Berkshire June 2021
Thank you for your guidance and support throughout. It was for me, a positive and productive experience.
Ms A, Hants June 2021
Thank you for all your help and advice during this difficult time.
Mr M, Hants, Feb 2020
I would like to thank you very much. The service you have provided has been worth the money and you've been amazing!
Mr T, Hampshire, Jan 2020
Thank you for your support and professional guidance and advice during a delicate situation. Your calm controlled approach gave us the outcome we were both seeking
Ms B, Hampshire, Nov 2019
Can't recommend highly enough. Took all the stress out of a very unpleasant situation.
Ms J, Dorset, April 2018
Thank you so much for all you have done. I know you have gone way over and above what was agreed and it is very much appreciated.
Mr B, Hants, Sept 2019
It was reassuring speaking to you.
Ms H, Wiltshire, Sept 2019
Firstly thank you for the mediation. I feel you handled everything perfectly and the results were great for both of us but most importantly our children.
Mr P, Hants, Sept 2019
Thank you for speaking with me this morning and it was lovely to hear a clear reasonable approach and how mediation will work. It was very useful and calming.
Ms D, Hants, May 2019
What a relief to find someone who is straight talking and explains things in simple terms so we can understand. Can't thank you enough for what you have done.
Mr S, Hants, June 2019
I just wanted to say thank you for all your help throughout.
Ms B, Surrey, March 2019
I just wanted to say thank you for all your help through what has been a very difficult time. You always responded to phone calls and emails really quickly and have helped me through every step of the process. Thank you once again and I will definitely recommend you to…
Mr S, Hants, Oct 2019
I just wanted to say a huge thank you. You were absolutely amazing and made me feel like I could have a voice.
Ms G, West Sussex, Jan 2019
Thank you so much for explaining everything so clearly – much clearer than any solicitor has done!
Mr F, Surrey, April 2019
We believe in a no nonsense, straight talking approach, resulting in a fair and effective agreement.